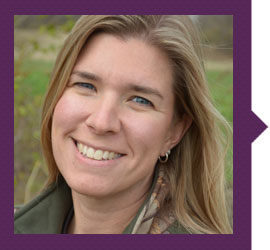 Sarah Chandler: The "outdoorswoman" of e-websmart.

At e-websmart, Sarah conducts copywriting interviews with clients, writes and edits Web content, and provides document support for CIAF. Her photography skills have been used on occasion as well. Sarah enjoys the process of copywriting as it is often a puzzle of ideas, words, and phrases which must be expressed in a creative but coherent fashion. By getting to know the clients, she is able to learn the attributes which makes their company, business, or non-profit special and describe this to the design team. Each project holds unique challenges, but Sarah reiterates, "It is a great feeling when it comes together just as the client envisions."
Sarah holds a B.A. in English with an emphasis in Writing from Pacific Lutheran University and has used her education over the past 15 years to create documents for businesses, churches, schools, and Web sites. She is also the Newsletter Editor for The James Project, a non-profit organization providing homes and support for fostering families.
Sarah is a Springfield native, married to Jeff, and proud mom of a fun-loving boy and an energetic girl. As a family, they love to be outdoors for hours in all seasons and weather; however Sarah can also be found indoors quilting for friends, family, and clients.