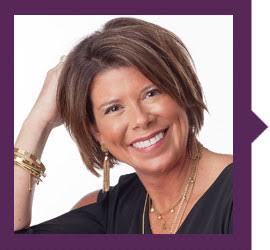 Michelle Tjelmeland, the high-energy dynamo behind e-websmart, is also the founder of the Cochlear Implant Awareness Foundation. She is a sought-after public speaker, a certified Social Media Specialist, and a dedicated wife and mother of two daughters. In 2013, Michelle created District 23 Mercantile & Foundry, which is a boutique in Springfield and Rochester, Illinois which benefit CIAF.
What most people do not realize is that Michelle created her business and non-profit all while being profoundly deaf, hearing only through a miraculous technology called a cochlear implant. The implant translates sound in the environment into electrical impulses that the brain can interpret. Because of her life experience with cochlear implants, Michelle founded CIAF in 2005, a non-profit organization that provides information and resources for individuals who can overcome deafness through utilization of cochlear implant technology. CIAF has nationwide name recognition because of Michelle's intuitive marketing skills and sheer determination.
Before losing her hearing, Michelle taught 7th and 8th grade language arts for the Springfield Public School District. She earned her bachelor's degree in Education from Eastern Illinois University and then completed her Master's in Education and Computer Technology from the University of Illinois—Champaign-Urbana.
Michelle is actively involved in her community and serves on the Board of Directors for CIAF and participates in many local events. She is also an active member of The Greater Springfield Chamber of Commerce and a former member of the Taylorville Chamber of Commerce. Her achievements through e-websmart and her work with CIAF have been recognized as she has received many nominations and awards:
Recipient, Enterprising Women of the Year 2019, from enterprisingwomen.com
Recipient, Springfield Illinois Times, Best Boutique 2018 for District 23 Boutique
Recipient, Springfield Illinois Times, Best Non-Profit 2018 for Cochlear Implant Awareness Foundation
Recipient, Illinois Hands & Voices, Guide By Your Side Parent Achievement Award presented by Northwestern University, February 2016
Recipient, Non-Profit of the Year award from MacArthur Blvd Association for District 23 Mercantile & Foundry, December 2014
Recipient, Non-Profit Director of the Year from the Springfield Chamber of Commerce, June 2014
Co-recipient, The Interagency Committee on Employees with Disabilities Non-Profit Award from the State of Illinois, May 2014
Certified Expert Constant Contact E-mail Marketing Trainer, February 2011
Named Distinguished Lincoln Land Community College Alum, May 2010
Co-Inventor of Alerts Made Easy the original 4-in-1 Web, email, text, and phone messaging service.
Recipient, Woman of Influence Award by Security Bank and the Springfield Business Journal, April 2009
Recipient, Woman on the Rise Award by Illinois State Treasurer, March 2008
Recipient, Entrepreneur of the Year Award for Inc. Magazine, November 2007
Recipient, Silver Addy Award from the American Advertising Federation, 2006, 2007 & 2008
Winner, Microsoft's Start Something Amazing Campaign in the culture and community category, 2005
Recipient, National Inspiration Deaf Person of the Year Award, by Oticon, February 2005